Funding: 

RISD Maharam Fellowship
Advisory Team: 

Linda Raftree of Plan International, Teddy Ruge of Project Diaspora/World Bank, Tom Carter of USAID
Location: 

Uganda (Kampala, Jinja, Mbale)
Duration: 

8 weeks
The Need
Above are examples of "poverty porn", which is a type of media that portrays people, especially women and children in developing countries, through high shock value words or images. It is often used by western aid organizations in their web banners or pamphlets to generate more funds for their respective causes. Some argue that "poverty porn" is justified as a necessary means to a noble end. Others argue that no matter how well-intended the goals of these organizations, such consistent one-sided representation can have detrimental impacts on one's dignity and heavily skew the perception of Africa as a whole. This is perhaps why the Western psyche continues to default to an image of a withered black baby with a swollen belly when the word "Africa" is mentioned. 
The buzz around the "poverty porn" topic was quite loud and heavy among the western aid community, but there wasn't much of the African perspective relayed. So I ventured to Uganda in the summer of 2013 to ask the true constituents of the debate what their thoughts were. Through the generous funding of the RISD Maharam Fellowship, I had the opportunity to take the issue of "poverty porn," and deconstruct it using the design process and various ethnographic research techniques.
The Challenge

What does it mean "to apply the design process" to the issue of "poverty porn?" For me, it means always questioning the presupposed problem and how it's framed. Is the issue really about the use of "poverty porn" or is that only a symptom of something else? Key objectives were determined from the beginning to determine the scope of my research:
1. To determine if the "poverty 
porn" is even a recognized issue
2. To better understand how "victims" of poverty porn want to be represented
3. To understand the effects of poverty porn on people's dignity/self-esteem.
4. To understand African misconceptions of the west. 
The Process
Why Uganda

Uganda was selected as the research location as A) I had already been there two years ago for a volunteer trip and thought that would help me reintegrate into the culture, B) had contacts there via my advisor, Teddy Ruge, and was able to use free office space because of that, and C) it was one of the safest East African countries for a single female researcher to be.
Hiring a Local Research Partner


Through the office space I was working at, Hive Colab, I was connected with Joseph Wanda, a Ugandan researcher who had lots of freelance research experience for businesses and universities. I was really lucky to get connected with him as soon as I arrived as he proved to be essential in the intial planning process. His demographic knowledge helped us plan a geographical route based on which target groups we wanted to reach. Joseph acted as the translator several times throughout the research, especially when interfacing with the slum communities.
Taking an Ethnographic Approach


There is nothing better than living with a local family to learn about the local culture - which is tremendously helpful when trying to get a better sense of general attitudes towards various issues. Thankfully, my advisor connected me with a Ugandan family who happened to have a single room for rent in the bustling neighborhood of Kiwatule in Kampala. With Rihanna tunes blasting through the dusty air in the middle of the night, I immersed myself in Ugandan culture in all its colorful glory. I learned to commute to work on the matatus, ate matoke and stew without trouble, snacked on rolexes (a delicious street snack, not the watch), bargained with the boda boda drivers like a pro, and got used to being called "China" on the streets. Assimilating to local life as much as possible definitely helped me become more fluent with my interactions with interviewees in the field. 
The map below shows the route we took starting from Kampala heading east to Jinja and Mbale. These cities were chosen based on the connections we already had there, the relative accessibility, the target demographics, as well as our budget. The organizations listed with an asterisk indicate that they were organizations we didn't make prior meeting arrangements with. We would meet one organization, which would then connect us to another, and so on. For example, the Ugandan Disabled Women's Association headquarters in Kampala connected us with someone from their branch in Jinja, who connected us with a widow's group and primary schools to interview. This organic approach actually proved to be more efficient in the end. 
Our target demographic was chosen based on who we believed were the either the primary subjects of "poverty porn" or closest to those subjects as an organization. Hence, we selected a range of local Ugandan NGOs, slums, and schools.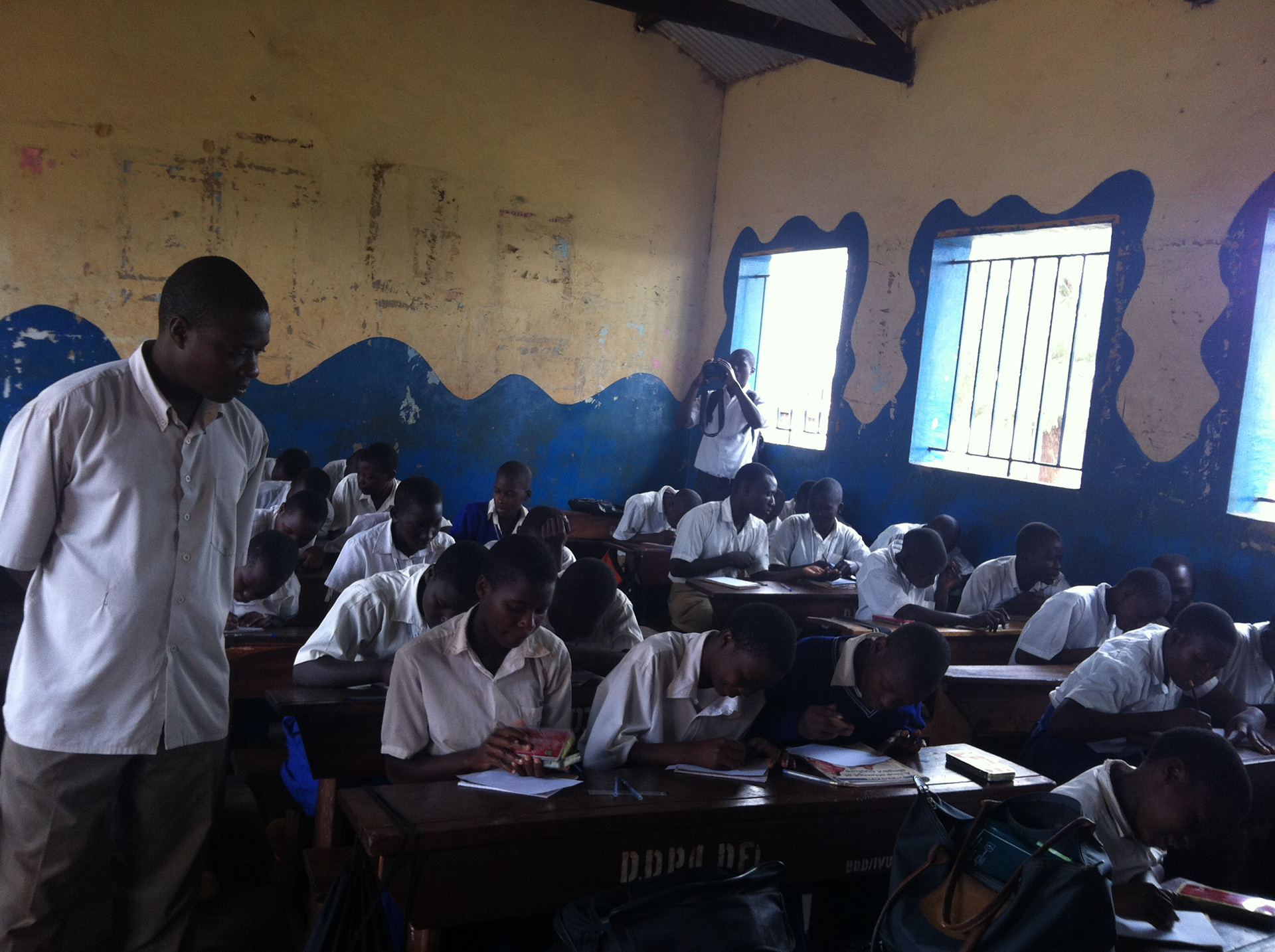 The Results



The questionnaire shown below was distributed to those who could read and write English and otherwise used as an interview guide for those who could not. Since the questions were highly qualitative in nature, some key insights, which are by no means exhaustive, are summarized below.
To determine if the "poverty porn" is even a recognized issue
When asked if people were happy with the way Africa was represented in the western world, a significant majority replied "no." Then when asked if they knew about the term "poverty porn" before the questionnaire, a significant majority replied with a "no" as well. This confirmed that yes, there were definitely disgruntled Ugandans unhappy about the way Africa was being represented in the western world. Many were sick of the dark, pestilential imagery of poverty, war, and disease that the western media kept feeding the public. But why, then, did they not know of the language being used to discuss this very issue?
The fact that more than three quarters of the interviewees acknowledged the issue "poverty porn" entailed but weren't aware of the terms being used to discuss it is a great example of what happens when somebody from the outside speaks for someone else. It is what happens when the people behind Invisible Children's Kony 2012 campaign speak for the whole of Northern Uganda and tell us that highly Photoshopped posters of Joseph Kony and ten different distressed filters are the way to communicate their story. It just doesn't make sense.

Explaining the term "poverty porn" to startled Ugandan faces happened a lot throughout the research. "Porn" was not something openly discussed in Ugandan culture, and it was not something lightly thrown around and hybridized like in the U.S. with words like "food porn" becoming urban lingo. "Poverty porn" was simply not culturally appropriate. So yes, "poverty porn" is a recognized issue, just not in those exact terms. 
Objective #2
To better understand how "victims" of poverty porn want to be represented
Below are only a few samples of people's answers to the question of how they would want Africans to be represented. From entrepreneurs in the office space I was working at to local NGO staff members and coffee cooperative workers, the general consensus was that they wanted the positive aspects of Africans reflected in the media - hardworking, intelligent people independent of western support. But a significantly different answer was heard from most of the interviewees in the slums, as shown below. The general attitude there was that it really didn't matter to them. The only thing that mattered was receiving support. According to Ismail, one of the interviewees from the Kikaramoja slums in Jinja, he was fed up with westerners coming in and out of the slums, gathering dirty children, and taking lots of photos of them. He understood it was a business and expressed contempt towards the practice. However, if the incessant photo-taking came with support, whether that was free meals for the kids or patronage of the local paper jewelry business, it was fine. 
Perhaps the NGOs arguing that "poverty porn" is a justified means to an end are off the hook. Were the black and white photos of crying babies really hurting the dignity of that community or were

we,

the western audience, problemitizing them simply because they were too uncomfortable for us to stomach? 
Objective #3
To understand the effects of poverty porn on people's world outlook, dignity, or self-esteem
Dignity and self-esteem are difficult things to measure, and they are rather long-term variables one can only holistically assess through qualitative data. The effects of poverty porn on somebody may not affect one's dignity immediately but through the years over continued exposure. Thus, straying just slightly from the previously determined objective, I decided to document people's general outlooks on Africa's future and themselves. 
Below is just one of the questions we asked to see if there was any kind of recognition of and deterence from "poverty porn." It was also to gain insight into how people would want to be portrayed in the media.
As you can see, there is a clear difference between how adults responded versus how childen responded. Though I didn't originally intend to portray the data in separate age groups, there was a significant enough of a difference between how the primary school children answered and how the adults answered that the division had to be made.
Insight #1: The older you are, the more exposure to Afro-pessimistic media portrayal.

It's easy to simply conclude that adults are just more cynical than children based on the two graphs. However, one could better argue that adults have been exposed to more media in their lives than children in Primary 7, meaning that they have been conditioned to Afro-pessimistic portrayals and have internalized them as true representation. Or, on the presupposition that adults are more pragmatic than children, it could also be argued that adults looked at efficacy in advertising, and knew that the more sorroful imagery would work for the purposes of fundraising. 
Insight #2: Children are more empathetic toward other children. 

The subject of the fake advertisements are evidently children, which perhaps the Primary 7 students could relate to more. And in doing so, they could truly empathize with them and see themselves in the photos. If they themselves were in these advertisements, what would they prefer? Based on Insight 1 where adults are more negative due to more long-term exposure to Afro-pessimistic media, perhaps children are more optimstic and prefer happy portrayals such as Advertisement 1, rather than 2 or 3. 
Another question, shown below, was asked to gain insight into attitudes towards the future of Africa. There was a fair balance between those who were optimistic and pessimistic. The surprising aspect of this question was the frequent mention of African leadership as the fault of a dark future. Sure, there was a fair amount of the expected mention of western exploitation, but it was interesting to see that many believed it was ultimately the local leadership at fault. 
Objective #4
To understand African misconceptions of the west. 
Surely there are western misconceptions of Africa, and that is the main reason for which my entire research project came about. However, the experience of conducting research in Uganda, meeting NGO leaders and slum dwellers, showed me upfront what kinds of misunderstanding of the west and westerners there were. For example, the notion that all westerners are wealthy and are only in African countries to volunteer or give financial support was clearly evident in the interactions I had with some of my interviewees.
An anecdote: 

When conducting a focus group interview with a group of widows, even though we repeatedly told them that we were students conducting academic research, many avoided answering the questions asked and instead used them as an opportunity to speak of their material needs. In another instance, after an interview, I was asked to take a photo of a child who had a severe bloating in the head. The reason behind this was so that I, a westerner, would take this photo and find a sponsor for the child's treatment upon my return to the U.S. 
Insight #1: Perception problem goes both ways.
The research experience in general taught me that the perception problem goes both ways. Africans have just as many misconceptions of westerners as westerners do of Africans. In fact, every people group is misunderstood in one way or another. To bridge this gap in understanding as much as possible, I believe exposing the problem and sharing as many sides of the story is crucial. 
Insight #2: Language of debate is important.
The "what" of the debate is important but so is the "how" of the debate. In what language is the debate taking place? What words are being used to talk about things? Are they culturally irreleveant to some stakeholders of the debate? Are there culturally alienating terms used to talk about the problem? The "poverty porn" debate is not so simply about the use or disuse of pitiful, black and white images. It's beyond images or words of a marketing campaign. What it speaks to is the bigger issue of telling someone else's story - specifically, westerners telling Africa's story.
Insight #3: Not just a question of using or not using sad images.
In relation to

Insight 2

, the "answer" doesn't seem to be simply replacing the sad images with happy images. What I hope this research shows is that the western aid community needs to be more sensitive to how problems are made into problems and how they are spoken about. The fact that almost three quarters of my interviewees weren't aware of the term "poverty porn" yet were clearly unhappy about how Africa was represented in western media should help us understand how bad things are in terms of the African-western communication gap.